The foundation known as »Il Giardino di Daniel Spoerri« was founded in 1997. Gradually, Daniel Spoerri enriched the sculpture park with an ever increasing number of installations – his own works and those of artists who have played an important part in his life. Now visitors can discover 113 installations by 54 different artists across the rolling parkland.
Some are hidden in small wooded groves, like the »Courting Couple« (Daniel Spoerri), others beckon from afar, like Dani Karavan's golden olive tree (»Adam and Eve«). Death and Eros are recurring themes in the »Giardino« (Daniel Spoerri: »Skull Tree«, »The Devil and the Shameless Woman«).
Other works engage with antiquity or mythology (Pavel Schmidt: »David and Venus Between the Buffers«) or experiment with language (André Thomkins: »Palindromes«). Another highlight is the sculptures by Eva Aeppli (1925 – 2015). The Giardino is the only place in Europe in which this astrological work by Aeppli can be viewed in its entirety. She had the heads that she had sewn herself cast in bronze – portraits of the stars. The »Giardino« houses the entire astrological work of Eva Aeppli.
The Landscape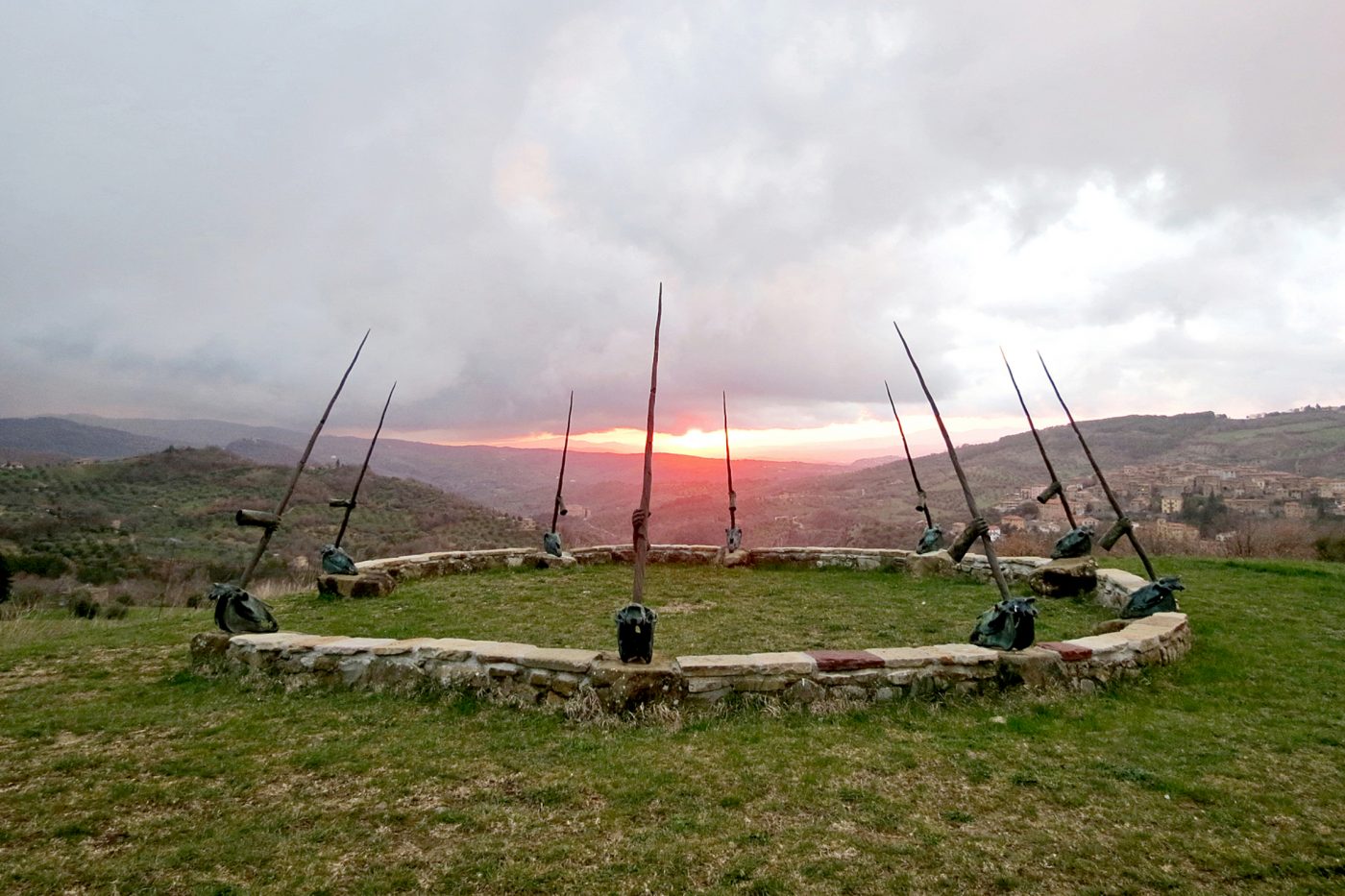 Visitors to the sculpture park are also amazed by the landscape that meets their eyes there. The terrain is rich and varied. Particular popularity is enjoyed by Spoerri's reconstruction, entirely in bronze, of the hotel room »Chambre No 13«, which he stayed in while in Paris in the early 1960s. A golden olive tree draws attention to itself, even from a distance, and in the »Circle of Unicorns« you feel that you are at the centre of the world. Watching the sunset here is a breathtaking experience.
Eat Art
Of course, »Eat Art« also played a significant role that is as much part of Daniel Spoerri's work as his famous »snare-pictures«. Water drips from a »Meatgrinder Fountain« over 3 metres high, an oversized cup greets visitors at the entrance and the only work in marble (so far) by Daniel Spoerri is a reference to the last meals that famous women are said to have eaten before their death: »Ultime cene de claris mulieribus«.
The diverse landscape combined with contemporary art is as fascinating for art aficionados as it is fun and interesting for families with children. Favourite installations include the walkable »Labyrinthine Wall Path« by Daniel Spoerri or the installation »Dies Irae« by Olivier Estoppey with three drummers and 160 concrete geese. Interaction is expressly welcomed – for example, in J.R. Soto's sound sculpture and in the sensory confusion of the walk-in bronze room »Chambre No.13«.