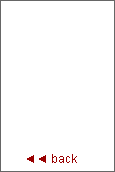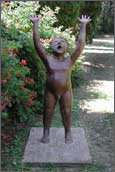 69
"Banzai, Banzai, Banzai", 1983/2001
bronze; 45 cm x 45 cm x 190 cm

AY - O
Born in 1931 in Ibaraki (Japan). Since 1958 he also works in New York. Belongs to the artists of "Fluxus" since 1962. In an autobiographical remark he resumed: "100 personal exhibitions. 30 rewards." Ay-O´s work at the "Giardino" is an enlargement of a small sculpture which Daniel Spoerri found standing on Ay-O´s desk in New York and which impressed and amused him at the same time. If the boy is fed with rice the seeds quickly leave the corpse on a very natural way. Spoerri asked Ay-O if he greed to put it in the "Giardino" in a version of human size. Thus the figure is a sort of collaboration.