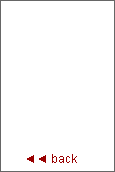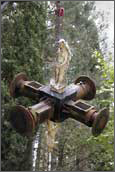 21
Do not open until train stops, 1996/1997
iron, stone, scaffolding; 7m x 5m

PAVEL SCHMIDT
Born in Bratislava in 1956, works in Solothurn (Switzerland). Schmidt attended the Academy of Arts in Munich. For several years he was Daniel Spoerri´s assistant. In his own artistic work he often examines the matter of original and copy. Being interested in the phenomenon of "kitsch" he integrates replica of popular sculptures, sometimes blowing them up and using the fragments for new objects. Besides his work as a sculptor Pavel Schmidt is well-known for his carefully designed books. They reveal another side of the artist´s personality: a vivid interest for language and drawings.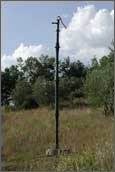 79
acqua majm wasser l'eau water voda nero agua
pump with handle, cast iron; height: 5,40m