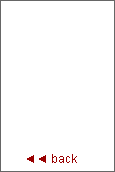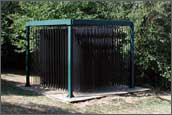 23
Pénétrable Sonore, 1997
iron structure: 3,50m x 4m x 3m, 400 aluminium tubes

J.R.SOTO
Born in 1923 in Ciudad Bolivar (Venezuela). Early contact with surrealists. Studied Arts in Carracas (1942-1947). 1950 the artist moved to Paris and met many avant-gardists there. Soto is famous for serial paintings but he has also always been a musician. The sculpture in the "Giardino" which is meant to stride through seems to be a symbiosis of both these inclinations. Soto did several "penetrables"; the first one was realized for the Biennale in Venice.