November 10 2019
10th – 17th November
The Foundation »Il Giardino di Daniel Spoerri – Hic Terminus Haeret« is excited to be launching a new creative workshop »Concerning Olives«. In this workshop participants will get the chance to explore cultural developments and practices that have shaped the Tuscan landscape for centuries.
Through physical activity combined with creative activities such as drawing and storytelling participants will explore cultural tradition and an artistic approach to a man-made landscape.
A professional gardener as well as experienced olive-growers will be facilitators to lead participants through the history of olive growing and the techniques of harvesting olives in a traditional way. They will enable us to actively explore how one of the most exquisite Tuscan olive oils is gained – extracted from fruits that bear the name of the nearby village of Seggiano, the »Olivastra Seggianese«.
Due to the ripening of the olives the workshop has to take place in November.
Harvesting olives ca. 5 hours a day ensures leisure time for exploring the »Giardino« by drawing, taking photographs or whatever their artistic focus may be. Investigating the concept of a contemporary artist – Daniel Spoerri – who has established a sculpture garden on the terrain of a former olive property might stimulate own artistic ideas. The creative part of the workshop (voluntary) is designing a label for bottles for a special edition of this years »Olio del Giardino di Daniel Spoerri«.
Daniel Spoerri will be available for occasional one-on-one interviews.
The accomodation will be in the rooms of the villa inside the Giardino. In the evening we can cook together, exchange experiences and observations and maybe look more in-depth into the history and the motives' of artists gardens in general and the »Giardino« in detail.
We want to address people who are working in the field of art and/or who are interested in art and nature. They should enjoy to work outdoor in a wonderful landscape.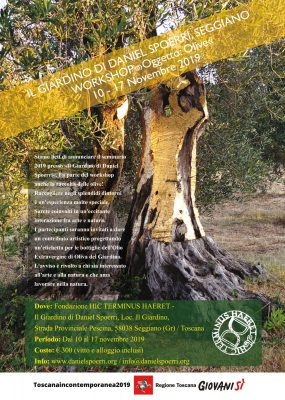 Where: »Il Giardino di Daniel Spoerri«, Loc. Il Giardino, Strada Provinciale Pescina,
58038 Seggiano (Gr) / Tuscany
When: 10th – 17th November
Day of Arrival: 10th November, between 12 and 7 p.m.
Price: € 300 (including board and lodging)
Maximum number of participants: 15
Enquiries and application: info@danielspoerri.org